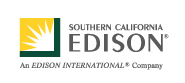 Unsubscribe from Southern California Edison marketing emails

To opt out of future Southern California Edison mailings, please enter your email address.



You will no longer receive:
Promotional emails, such as newsletters, conservation tips and information about rebates, savings and SCE programs.

You may still receive:
Transactional emails, such as information regarding your electric bill, rate changes, service outages and SCE programs you already participate in.



©2013 Southern California Edison. All rights reserved.